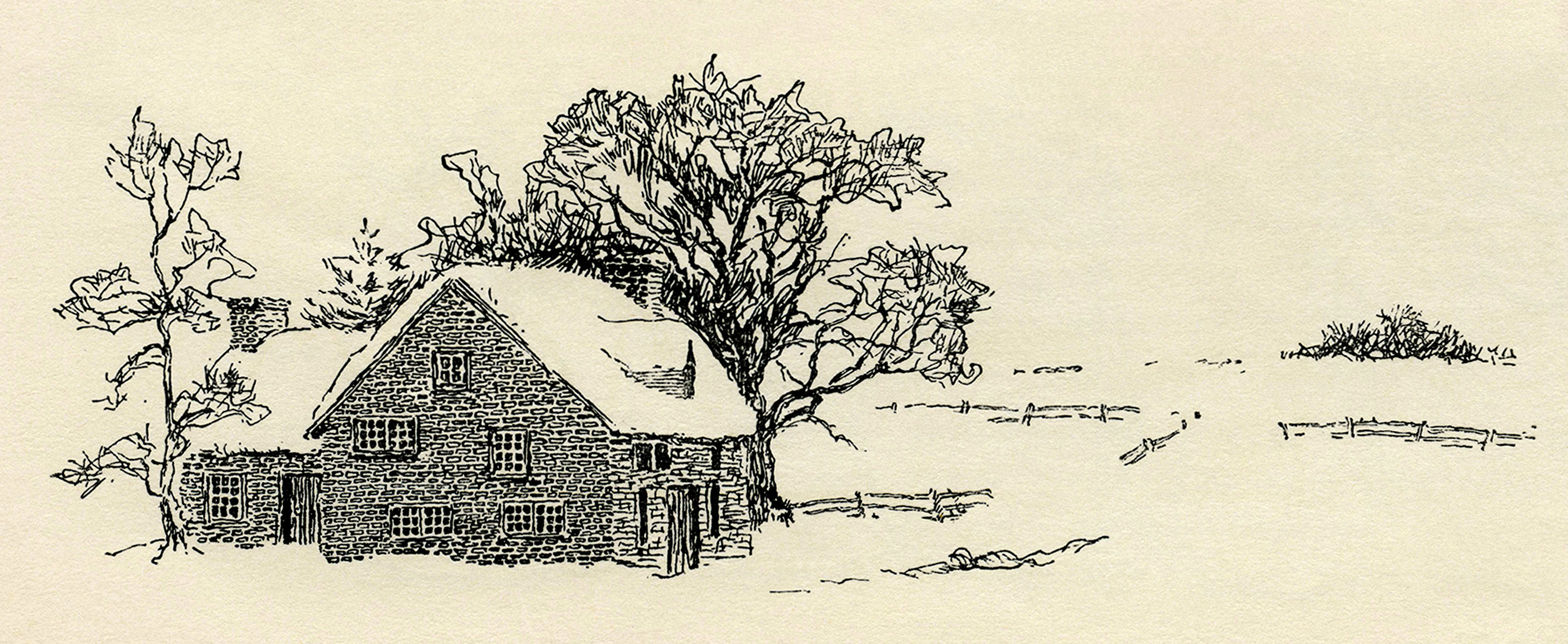 Image courtesy of Old Design Shop
This picture pretty much sums it up. A series of storms that began last Thursday night and ended Sunday afternoon dropped some 18.5 inches on us, the vast majority of precipitation for the season.
Thursday morning, Oakley and I went shopping for his food, then I made the last minute run to the store for milk, eggs, and so on. We had bread. Hubby had just purchased a fresh bale of toilet paper. After running the gauntlet, I grabbed a pizza for lunch, and went home to batten down the hatches. Called the guy who does the driveway? Check. Supplies in place? Check? Reading material and dog treats? Check. Settle in and enjoy the storm.
The first flakes drifted across the window as we ate dinner. Peace, coziness, and gratitude descended.
Until the next morning when everything went off the rails, making me wonder momentarily when the walls and floors would emit flames and sulphur.
Hubby hadn't been feeling well for a couple of days. We had chalked it up to one of the variations of the crud going around and treated it with standard home remedies of soup, tea, NSAIDS, and Vernor's (you can take the kids out of Michigan, but you can't take the Michigan out of the kids) ginger ale. His symptoms intensified to the point where he went to the local walk in clinic.
By himself.
Fine. I didn't ask if I should go with him. He's driven himself to the emergency room twice with gout in his right foot and once for stitches in his left knee after a mishap with a grinder while restoring a pickup truck. Should he ask me to accompany him, I'll take it as a sign that he really needs an ambulance.
In this case, his solo journey was not a bad thing, even with my mumbles of "fine, be that way." Just after he left to pick his way down the slippery sloppy road, Oakley frantically ran in circles around his crate and the dinette table. I snapped on the leash and lead him outside just before he had an attack of colitis. That was for the first time in over two months. That was when we started him on the Prednisone for his eyes. His digestive system calming down has been a bonus. We–the vets and I–had been weaning him off of it. I will spare the details, but will say that Stephen King could have used the incident in a novel. Luckily,  I had the herbs for calming his colon and the preferred antidiarrheal here at home.  Both were administered before I took my coat off. He paced around a little like he does when he's crampy, gave himself a good shake, then joined me on the sofa with his tush pushed up against my hip before the snoring started.
Hubby had picked his way home again, pharmacy bag in his hand. Only two other patients were there. One was on the way out with a bandage enveloping one hand; the other was signing in as Hubby left. The doctor called in the prescription to the pharmacy across the street. His whole adventure had only taken an hour and a half, even with the abysmal roads and the obligatory moron going the usual speed limit of 55 and honking at Hubby for not doing same. He ate lunch, drank tea, then took his meds and went for an afternoon-long nap.
Little else could be done. The driveway guy came and went several times. Hubby rested. I tried some new recipes based on research on food choices to reduce blood pressure since his was high on Friday. Not bad, pretty tasty.
Finally, the roads cleared and we were all able to get out yesterday. Hubby went to school. I went to the local big city for a long overdue lunch with a friend before a self-care appointment.
Today starts the February thaw. No precipitation until this weekend, but that seems up in the air at this time.
We welcome the thaw. Even with a condensed winter, it is a welcome friend.