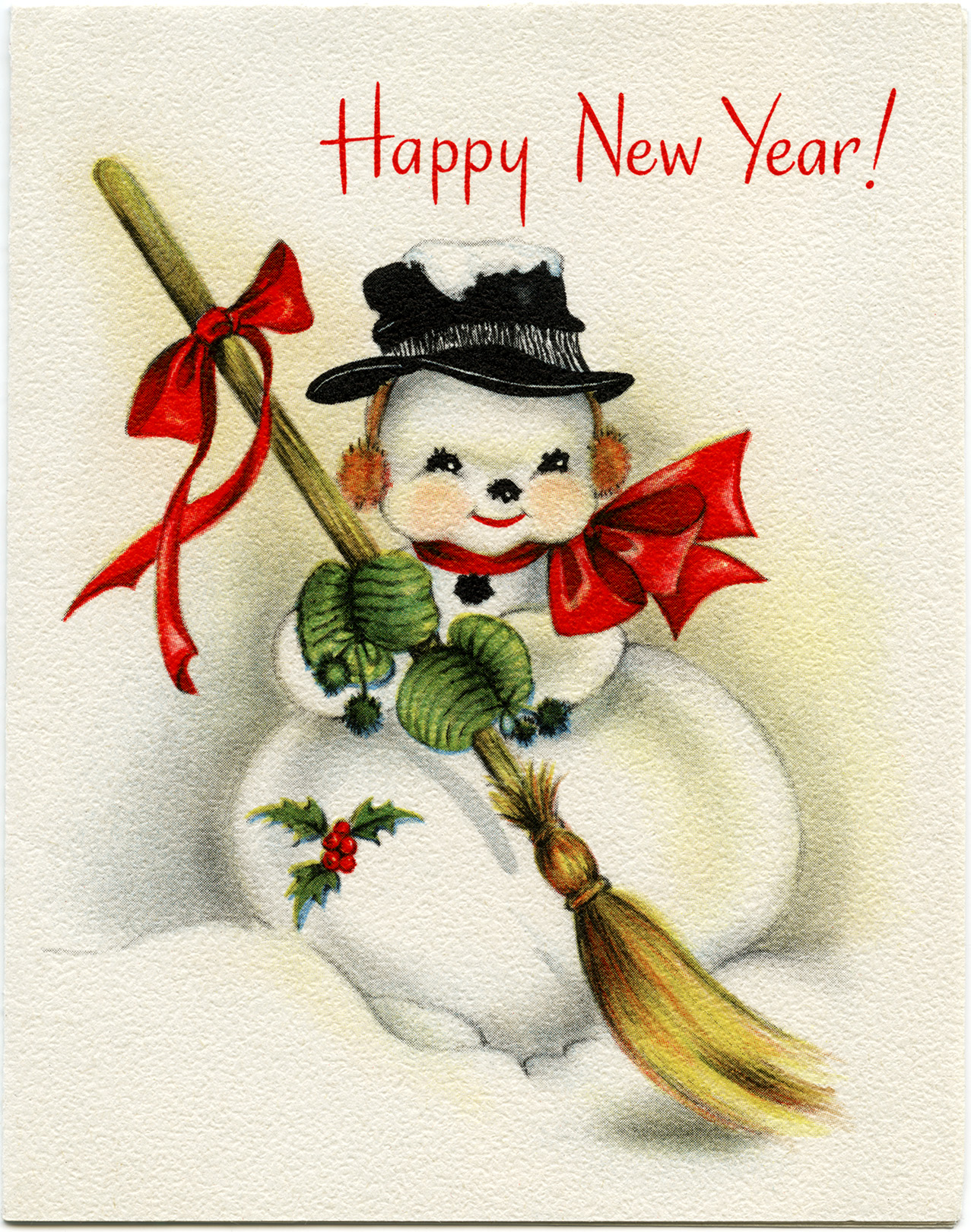 Image courtesy of Old Design Shop
I like this little guy. Quite dapper with the bow tie and hat, plus the broom to sweep away the last vestiges of 2017.
We spent New Year's weekend watching the "Downton Abbey" marathon on our local PBS station. Few other options for amusement  existed. We had a small storm on Friday that dropped enough snow to make the roads challenging. As in what usually is a 30-minute round trip to pick Oakley up from day care morphing into two hours. On its heels came a brutally cold Saturday. Sunday wasn't bad. We left the Crawleys and their staff to their own devices as we went for a New Year's lunch and a new to us bookstore. Hubby found several books on woodworking and reproducing antique furniture. I found several history related books. A good time was had by both.
Monday sent the temperatures back into the deep freeze. If someone saw the two inch snow cover glittering beneath last night's full moon, they might have thought that the midwest isn't that bad in winter. Unfortunately, it can be. There are two options: a grey slushy day with temperatures in the high 20s or low 30s, or a picture perfect day of blue skies and sparkling snow with air temps that will shatter your lungs when you inhale.
Despite the cold, the earth spins on. We move onward into 2018. I will refrain from making any statements about it not being worse that 2017 for fear that 2018 will ask it to hold its beverage before spinning out of control.
Will we ever get back on center, though? I am heartened by  the current wave of political activism. One of my personal resolutions was to get involved at least through making phone calls to express my support or displeasure to Senators Duckworth and Durbin. I also resolve to do what can to get the local Congressional rep, Randy Hultgren, out of office in November.  He has been unresponsive and his staffers have been even worse. I'll put my energy into getting in one of the candidates running against him, thank you very much.
We all have our work cut out for us. Let us continue. Let us begin.